(Miễn Phí) Đón tại sân bay Adelaide dành cho du học sinh UniSA lần đầu đến Úc
Đặt lịch theo hướng dẫn bên dưới, không sử dụng chức năng đặt lịch của btMate cho dịch vụ này
This free service is only available to new UniSA international students who have accepted unconditional offers.
You may be accompanied by your partner OR 1 child.
Any more passengers will need to travel separately at your own expense.
If you are travelling with a child, please provide details, such as age and weight, in the 'special instructions' field in the online booking page.
If your luggage exceeds the standard flight limit of 30 kg, or/and the transfer has to involve an additional vehicle, you may be charged for any additional costs.
Booking must be made more than 24 hours prior to arrival. Pick up cannot be guaranteed if you have not provided sufficient notice.
PLEASE NOTE: If you will be studying with CELUSA or SAIBT before commencing your program at UniSA, please contact celusaibt.accom@unisa.edu.au to arrange your airport pick up.
Making a booking
To make a booking, go to Hughes Adelaide
Click Sign Up to register and create account using your UniSA email address (e.g. username@mymail.unisa.edu.au).
After you have registered, instructions on how to validate and activate your account will be sent to your UniSA email address.
Once activated, you will be sent an email to your UniSA email address with your login details for Hughes.
When making your booking, you will also need:○ Your UniSA student ID number

○ Incoming flight details (flight number, arrival time and date)

○ Your accommodation address

○ Your mobile phone number
Changing your booking
Login to your Hughes Limousines account if you need to make any changes to your booking.
PLEASE NOTE: If you need to change your booking within 24 hours of your original arrival time, you will need to contact Hughes limousine by phone or email. The contact details are located on your Booking Confirmation letter which was sent to your UniSA email account.
At the Airport
At the airport, a Hughes Limousines representative will be holding a sign with your name and waiting to meet you inside the airport terminal.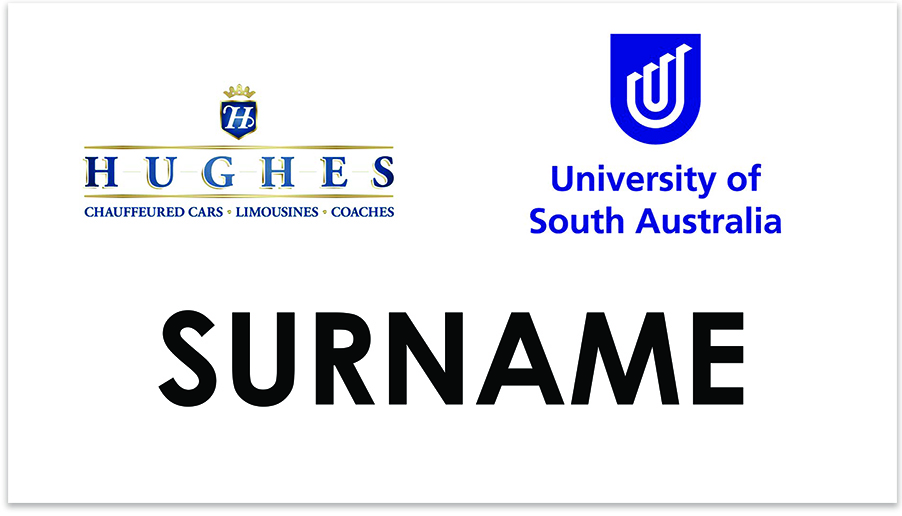 Other transportation options
For other transportation options, go to the Adelaide Airport website.
Your one-stop-shop for student services. UniSA general enquiries: 1300 301 703.